Therapeutic Food Supplements
Our supplements are rooted in the belief that as life becomes more complex with toxicity, pathogens, and stress, our bodies need intelligent nutrition of high actives; a wide variety of pure, concentrated whole foods and extracts, designed to deeply nourish as well as combat the growing threats of modern life.
This is why we formulated our Therapeutic Food Supplements, and why we believe your body will thank you for trying them!
Browse our full range of food supplements here.
To receive our email updates, please enter your details below.
We also invite you to follow our updates on the following social media channels:
News
8/13/15 Teaching Engagements:
Seann will be speaking at the ANMA conference in Las Vegas Aug. 29th in the afternoon! My topic is "What Makes Foods Therapeutic?" You will hear the promising new advances in food science and medicine as well as learn about the new generation of probiotic.
Come Join me Sept. 18th -19th, and hear a great group of physicians speak on chronic infection at the Integrative Therapies Institute convention: ITI PORTLAND 2015. If you haven't tuned in to ITI, it is about time! I'll be speaking Sept 18th.
We are very excited to teach at the Integrative Healthcare Symposium, Oct. 10th. The topic is "Therapeutic Foods and the Microbiome in our De-Evolving World." Join us for breakfast at 7:30-8:15 and hear Seann discuss the new scientific thinking on plant flavonoids and the exciting power of microRNA for enhancement of immune function. See BioImmersion Breakfast at the Integrative Healthcare Symposium.
7/6/15 Yes, the next generation probiotic is here! Start reading about the power of LactORN in our blog:
7/5/15 Read the amazing Dr. Artemis Morris' new article and learn how to use food therapeutically.
Diverticulitis and the Beta Glucan Synbiotic
7/3/15: Getting a diversity of high active fruits and vegetables regularily into our diets is crucial towards our achieving a healthy longevity. Seann's informative article on the importance of diverse foods has been picked up by the excellent Natural Solutions magazine, Take a look at the full article here: "Food Diversity is Key to Good Health."
Do you know where your food comes from? Watch the Journey of the foods you eat every day on Take Part website. This is a fine activist organization to follow!
Product of the Month
Our highlighted supplement for July is the Next Generation Probiotic: LactORN!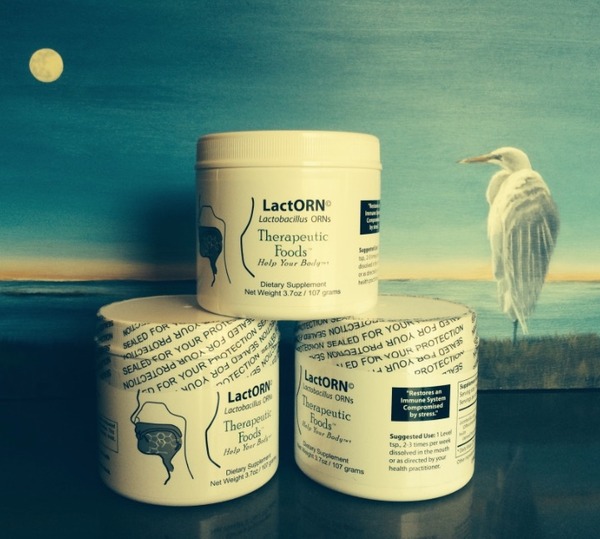 New research indicates friendly bacteria of unprocessed fermented foods retain their oligoribonucleotides (ORNs) which are then released when eaten, because of the saliva' pH. A chain of reactions occur: Immune cells, imbedded in oral tissues, respond to these ORNs by releasing stimulating cytokines, restoring the powers of the immune network.
Healthcare practitioners and pharmacies can order this supplement here.
To find a provider in your area, visit our 'Where to Buy' page.